New York attack: 8 killed, 11 injured. Note found claims ISIS terrorist (Video/Photos)
ultima ora
PUBLIKA.MD
Comments
foto: New York attack . Mangled bikes in Lower ManhattanEPA At least eight people are now known to have been killed and 11 were seriously injured. Mangled bikes littered the area after the incident./EPA
AFLĂ
imediat Știrile Publika.MD. Intră pe Telegram
Eight people were killed and at least 11 injured after a truck hit people on cycle line in Lower Manhattan. Five Argentines were among the dead.
The driver was shot in the abdomen by police after jumping out of the truck with what turned out to be a fake gun in each hand and shouting what witnesses said was "Allahu Akbar," Arabic for "God is great," authorities said. The man underwent surgery and was in critical condition but was expected to survive. 
Two law enforcement sources identified the suspect as Sayfullo Habibullaevic Saipov. He's from Uzbekistan in Central Asia but had been living in the US since 2010, sources said. Reuters reports that he has a history of traffic violations, citing media reports and court records.
Images after incident
A senior law enforcement officer told CNN a note, written in English, was found in the truck that said the attack, which unfolded around 3 p.m. on Halloween, was done in the name of ISIS.
"This was an act of terror, and a particularly cowardly act of terror," New York Mayor Bill de Blasio said, "aimed at innocent civilians, aimed at people going about their lives who had no idea what was about to hit them."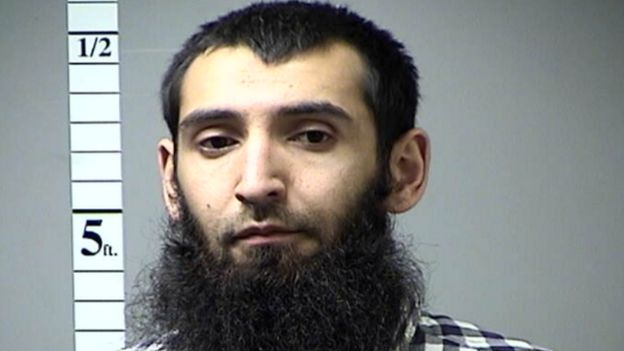 US media identified the suspect as Sayfullo Saipov, seen in this 2016 photo
President Trump had been briefed about what happened in New York on Tuesday afternoon, the White House said.
He then took to Twitter, saying:
"In NYC, looks like another attack by a very sick and deranged person. Law enforcement is following this closely. NOT IN THE U.S.A.!"
"We must not allow ISIS [Islamic State] to return, or enter, our country after defeating them in the Middle East and elsewhere. Enough!"
"My thoughts, condolences and prayers to the victims and families of the New York City terrorist attack. God and your country are with you!"
At a news briefing, New York Police Department (NYPD) Commissioner James O'Neill described what had occurred:
Shortly after 15:00 local time (19:00 GMT), a white pick-up truck rented from retailer Home Depot struck cyclists and pedestrians while being driven along the West St-Houston St path for many blocks
The vehicle then hit a school bus, injuring two adults and two children on board, and came to a halt
The driver emerged holding what appeared to be two handguns and made a statement "consistent with a terror attack"
He was shot in the abdomen by a police officer stationed near the scene
A paintball gun and a pellet gun were recovered from the scene
AFLĂ
imediat Știrile Publika.MD. Intră pe Telegram
ISIS, terrorism, terroristtoate TAG-urile
International